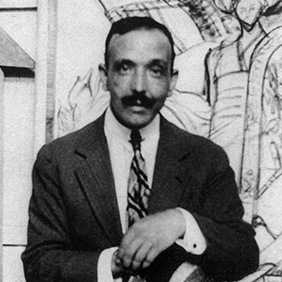 Josep Maria Jujol (1879-1949) was a Catalan Modernista architect, draughtsman, designer and painter. A follower of Antoni Maria Gallissà and Lluís Domènech i Muntaner, he completed his architecture studies in 1906 and was also a professor at the Higher School of Architecture in Barcelona
He collaborated with Antoni Gaudí, adding his own personality to the work. In fact, the architect Gaudí trusted him to design parts of his projects, giving him total creative freedom.
As from 1904 he worked with Gaudí on the design of the main façade of the Casa Batlló, as well as the wrought iron railings and some of the plaster ceilings at the Casa Milà (popularly known as 'La Pedrera'), among other projects.
Jujol's work cannot be categorised. He participated in artistic movements such as Surrealism and Dadaism, as well as using abstract and informalist approaches. Some of Jujol's most notable architectural works are the Teatre Metropol (1908) in Tarragona; the reform of Casa Bofarull (1913 – 1931) in Els Pallaresos, Tarragona; the Torre de la Creu (1913 – 1916) in Sant Joan Despí, Barcelona and the Vistabella Church (1918) in La Secuita, Tarragona.
Of his collaboration with Gaudí, there is notably the Casa Batlló (1904 – 1906) in Barcelona, with its main façade and furniture; the Casa Milá (La Pedrera) (1906 – 1910) in Barcelona, its balcony railings and plaster ceilings; the Park Gúell (1900 – 1914) in Barcelona, with the "trencadís" technique bench and ceilings in the hypostyle room as well as Mallorca Cathedral (1909 – 1910) in Palma de Mallorca, with paintings for the Gothic masonry for the choir and facings on the apse walls.