The duo consisting of the interior designer Isern Serra and the artist Valeria Vasi has entrusted Mobles 114 with the creation of their home in Barcelona, a serene space where minimalism and Mediterranean character dominate.
Located in an old office building from the 1950s in Barcelona's Clot neighborhood, the 120 m2 home of this creative couple is also Valeria Vasi's studio. A relaxed and casual atmosphere pervades all its rooms, as it has been conceived as an open space bathed in light where you can live, create and enjoy in good company.
The couple knew they wanted to create an open space that would facilitate communication and favor the social dimension. That is why they decided to opt for large spaces where the kitchen, dining room and living room merge into a single space that is oriented towards the large windows, receiving full sunlight at noon.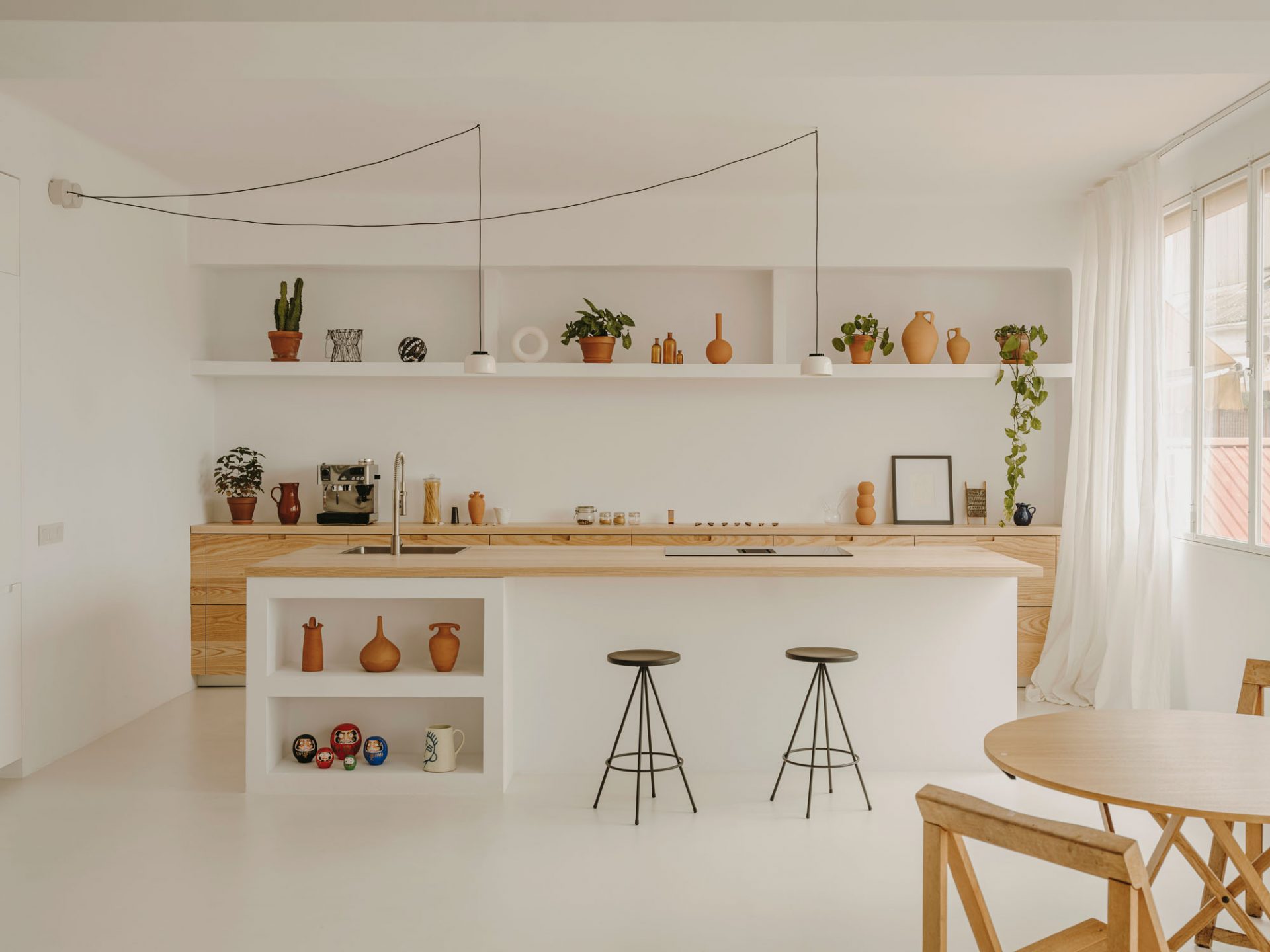 With clear lines and abundant natural light, the kitchen consists of a large central island covered with an ash wood countertop where the sink and hobs are placed, including the extractor fan that is integrated into the induction cooker. The absence of an extraction hood promotes a smooth transition between kitchen, dining room and living room.
Such an island acquires great prominence and is a key space when it comes to articulating the kitchen and dining room. The versatile Nuta stool by Mobles114 fits in perfectly with this setting thanks to its simple and functional lines. This design by Lluís Pau stands out for its light and balanced shape, which makes it particularly suitable for the hotel and catering industry in outdoor and indoor spaces, as it integrates optimally with styles ranging from classic to contemporary thanks to its formal sobriety. Nuta's elegant yet functional character has earned it several design awards, such as the Delta ADI-FAD 1990 Delta Award Selection.
In addition, Nuta is a lightweight, stable and durable design which is available in various heights, finishes and colors, making it even easier to adapt to the use and characteristics of any environment.
In Isern Serra and Valeria Vasi's home, the Nuta stool by Lluís Pau for Mobles114 fits exceptionally well into a warm, minimalist space which includes personal elements, such as works by the artist herself, paintings by her grandmother and objects acquired by the couple on several trips they have taken together.
Photography: Salva López