Casa Les Punxes x Cloudworks, a new coworking space in the heart of Barcelona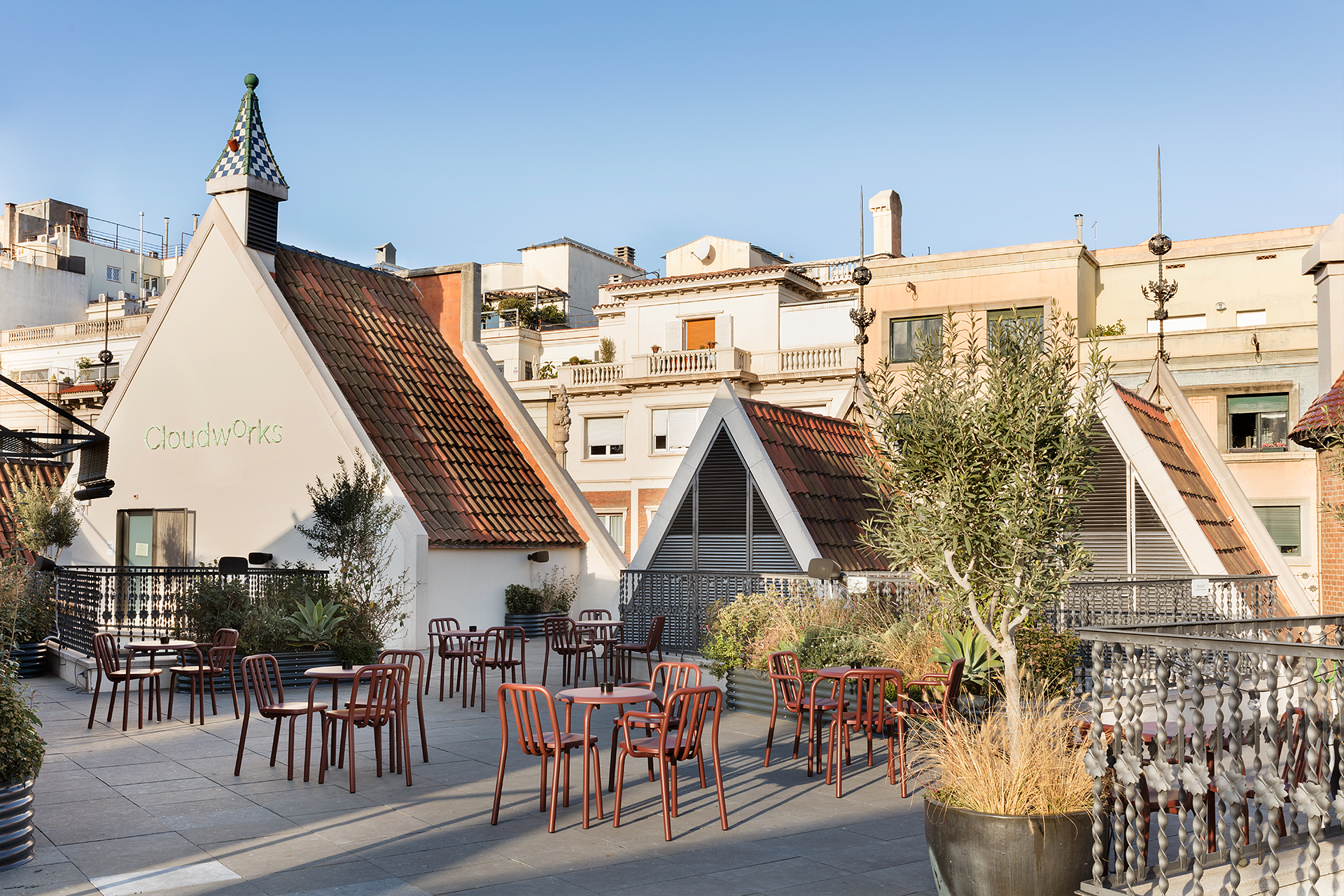 At Avinguda Diagonal 420, right between the streets Roselló and Bruc, stands the imposing Casa de les Punxes, one of the most emblematic and unique monuments of Barcelona's modernism. Recently adapted by Cloudworks as a coworking space, we went inside to find an elegant, eclectic and cozy café-restaurant ready to host any passerby looking for a dynamic and inclusive place to enjoy a delicious cup of coffee.
Located on the border between the dynamic and vibrant Gràcia neighborhood and the beautifully structured Eixample, Casa Terradas was built in 1905 as a medieval castle in an attempt to give the work of the modernist architect Puig i Cadafalch a Gothic touch. One could say that is exactly the most defining feature of Casa de les Punxes: the eternal dichotomy between new and old, contemporary and classic, basic and refined.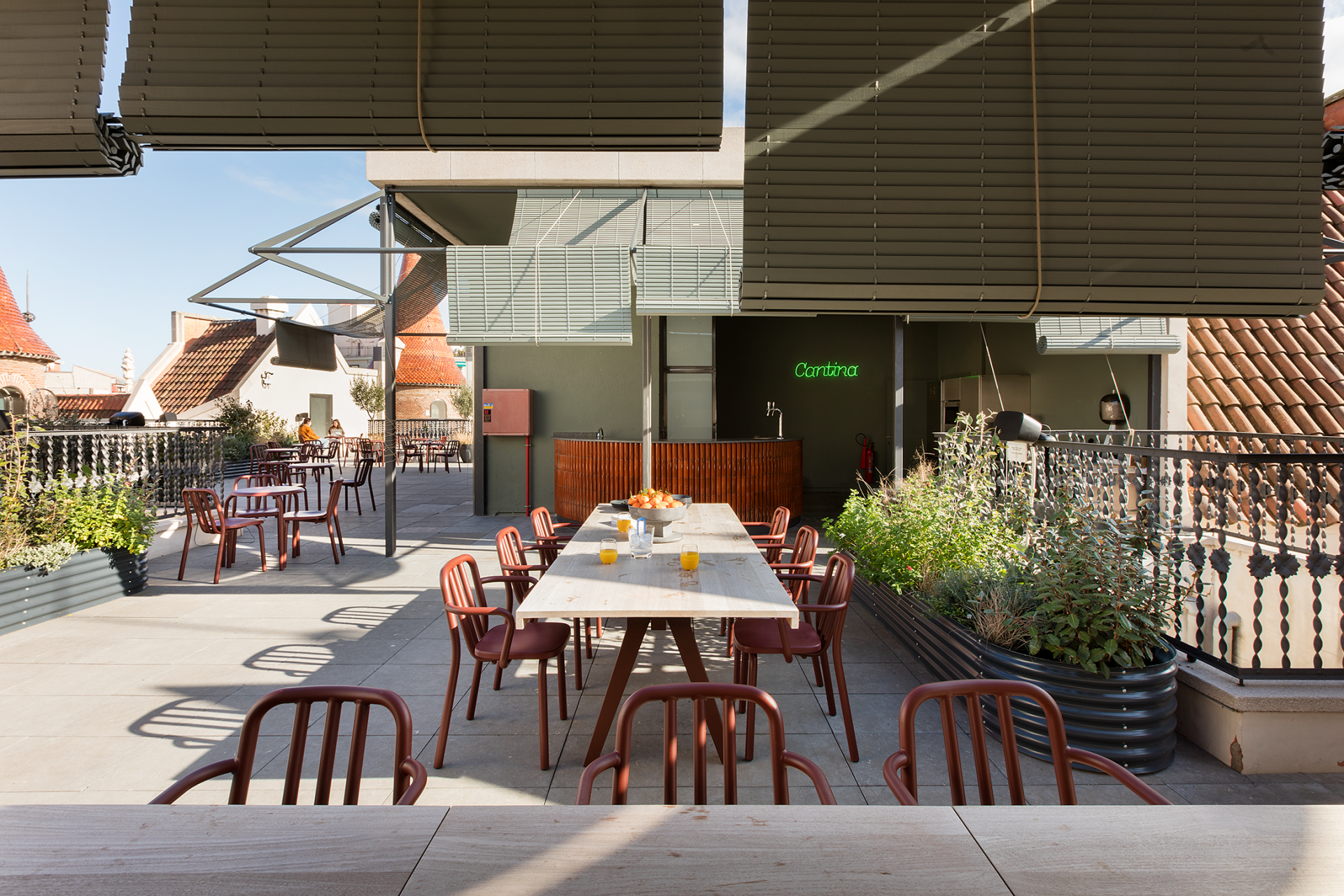 The Cloudworks project is divided into three well-defined spaces that allow a seamless combination of combine work and relaxation. The lobby, where pieces from Mobles114 have been incorporated, is located at street level and is open to the public; anyone is welcome to have a coffee or enjoy a tasty menu.
The modernist decoration, typical of the building's origins, is a perfect match for the industrial inspiration of the resistant and adaptable Tube chair, designed by Eugeni Quitllet and featuring rounded lines, which takes us back to the Barcelona of the beginning of the century, as well as with the Nuta Colors stool, designed by Lluís Pau and displaying the rationalism and minimalism of the Bauhaus, whose timelessness and metalsmith finish reinforce the holistic vision in the lobby. On the other hand, the Forc coat rack, a piece by Lagranja Design, delights us with its friendly style and the clarity of its mild shapes. Carved in beech wood, practical and functional, its stylized hanger fits perfectly in the fusion between classic and contemporary.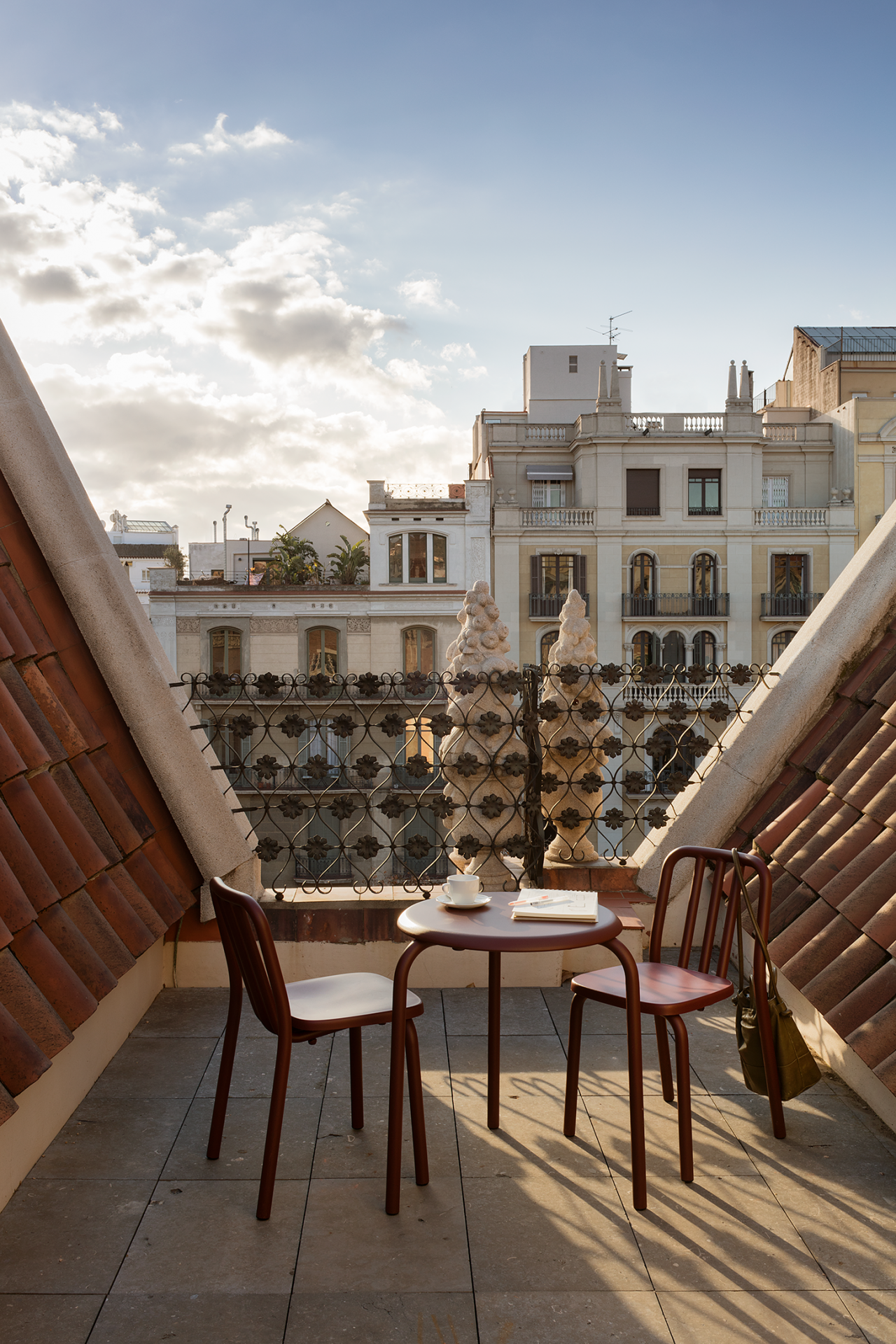 The coworking area is located on the second floor just above the lobby in the space known as the office, which consists of 74 comfortable and pleasant workspaces. However, enjoying the most spectacular surroundings of this emblematic building requires going up a little further until the rooftop, where everything is seen from a different perspective under the protection of the famous six punxes (spikes) that account for its name. The Cloud is a space for relaxation and contemplation with five bright meeting rooms and a canteen area where one can eat and chat. The terrace furniture is composed entirely of the Tube collection. In addition to the chairs, Eugeni Quitllet surprises us with the Tube side table, perfect for both indoors and outdoors due to its aluminum construction. Sitting at the top of Casa de les Punxes and with Barcelona at your feet, Monday mornings are nothing but extremely pleasant.
Images: Meritxell Arjalaguer