CARLES RIART, 'moblista'.
A tour about Carles Riart career, from the beginning until nowadays. Highlights are his designs for Mobles 114, his monographic exhibitions and his participation in Barcelona'92.
Carles Riart founded the Gris shop, in Muntaner street, Barcelona in 1969 with Bigas Luna. Gris is dedicated to interior and furniture design in a period where the word 'design' was unknown to the majority of society. Gris (1969), Vinçon (1941/1973)*, BD (1972) and Mobles 114 (1973) were four of the most prominent companies promoting design in the 70's in Barcelona.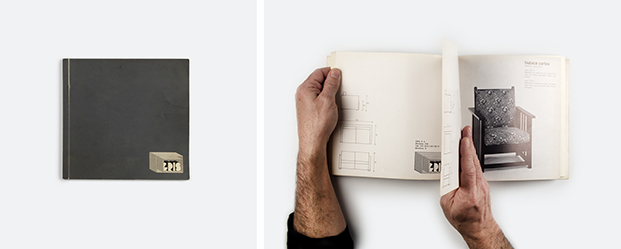 Year 1976 makes the start point for Riart. His first solo exhibition of furniture, named 1ª Colección de muebles especiales de Carlos Riart (1st collection of special furniture by Carlos Riart) at Mobles 114 showroom.
Riart's way of working is a combination of poetry, ideas, magic and concepts mixed together; sometimes with a function, other times with an aesthetic shape that doesn't necessarily have to have a specific function. For example, a sofa with a hole where you can put your hand inside, a room divider with an ambiguous function, sculptural objects, glass or mirrors that store psychic energy, useless furniture and unintelligible artifacts, to name but a few. In essence, the costumer completes the function. The object acquires its identity or its function when the costumer uses it. Some of these pieces were shown at his first exhibition at Mobles 114.
Carles Riart did two more exhibitions during his career. All theses exhibitions were the result of his own work. Not one order of any furniture or object has been placed, as was his intention.
We can say, without any doubt, that these designs, object and artifacts were created with total freedom, without conditions or restrictions of any kind.
This second exhibition was in the Vinçon gallery in 1992.
The third exhibition was called Objectes perduts, (Lost objects) and was shown in Adelantado gallery in Valencia in 1996.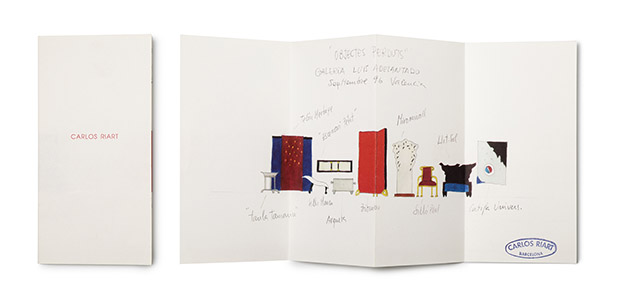 The work of Carles Riart has its own very unique personality. His furniture and objects transmit, through his poetic language, a radical modernity.  He managed without fleeting fashion and trends, whilst at the same time, anticipating future trends without trying to influence any proposals or to be part of any movement. It's remarkable that he anticipated some aspects of the Memphis movement, founded by Ettore Sottsass, in the 80's.
But, Riart is fundamentally a 'moblista' (a kind of furniture maker/designer). He is someone that not only devises and creates furniture; rather he works on it until the very end of the process.  He even gets involved in the production process. A good example is the Ona coatrack designed together with Montse Padrós.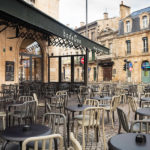 Riart and Barcelona'92
It is precisely for his distinctively personal way of working, where the poetry, the talent, the magic and the artistry come together, that you can imagine how Riart came up with the idea of how to light the torch in the 1992 inauguration of the Olympic Games in Barcelona.
He was involved in the different proposals set out by the CCOP (Barcelona 92 Olympic Organization Committee) in the design of the stage and the torch for the Olympic Stadium.
His overall proposal was not chosen, however his idea of the bow and arrow, that was to light the torch, was accepted by the CIO (Committee International Olympic).
That poetic idea, those magic seconds marveled by the world in the inauguration of the 1992 Olympic Games.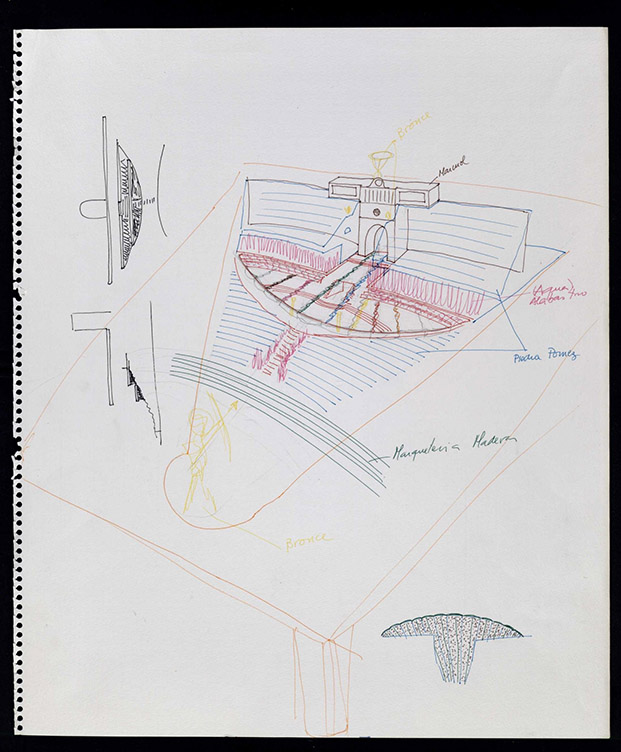 *Vinçon opens its doors in 1941; Amat family leads the project from 1957, being refurbished by Fernando Amat in 1967. La Sala Vinçon opened in 1973.