Green eco: sustainability at mobles 114, by Ana Villagordo
Green ECO designed by Javier Mariscal is a seat in recycled and recyclable polypropylene, and wooden or metallic structure. Conceived in a sustainable way during all its lifecycle, Green has achieved a reduction of 65,7% environmental impact compared to a no ecodesigned chair of similar characteristics. Green chair is formed by a modular structure easily disassembled in recycled and recyclable materials and PEFC certified wood.
Transport has been environmentally optimized also, creating a packaging of two Green chairs disassembled in a cardboard box, also recycled and recyclable, small and easily stackable. Boxes can be stored and distributed efficiently.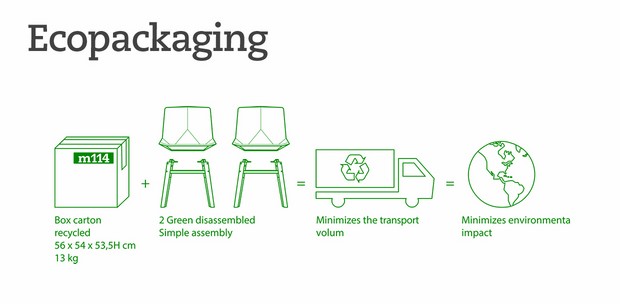 Dark grey and black in chairs explain its origins: a recycled material is never the same, so each Green chair is a unique piece of furniture, with an unknown past and a new future. A seat that achieves its function thanks to an excellent ergonomy, timeless and unpretentious design which becomes a good design.
Locally manufactured, Green ECO is designed following a sustainable process, marked by ISO 14006 in conception, materials, making, materials, transport, use and end of lifecycle.
An affordable price; a good design, integral and coherent; timeless and high quality of upcycled materials; make Green ECO a great chance to improve our environment and society from our chairs.
About Ana Villagordo
Environmental Science graduated in Universitat Autònoma de Barcelona (UAB), with a cross-wise profile in strategic environmental consultancy, works for ERF – Estudi Ramon Folch & Associats.
She also teaches Sustainable Processes and Productes at Elisava School of Design and Engineering. Editor in chief of Sostenible.cat she also created blog Quincalla.org about social and sustainable design. With punctual collaborations in communication, creative strategy and sustainable and social design projects with organisations, companies and designers such as Formació i Treball, La Page Original, Milanta. Materials creatius per a l'educació,Metonimia and Mobles 114.