In the Victoire area, in the heart of the world's wine capital, you will find BodeGon, a modern bistro with a large terrace which is the stage of numerous urban scenes in a city where an eminently classic style converges, but where there is also a great sense of modernity and freshness.
Mobles114 has collaborated with Benayoun Architectes providing the outdoor furniture from the Tube series for this bar. Under the premise of contributing to the creation of a pleasant and relaxed space, especially designed to encourage social gatherings and create an informal atmosphere.
Located in the heart of Place de la Victoire, opposite the triumphal Porte d'Aquitaine, BodeGon stands out for its dynamic and lively appearance in an eminently urban area that is busy with pedestrians and packed with cyclists and students passing by.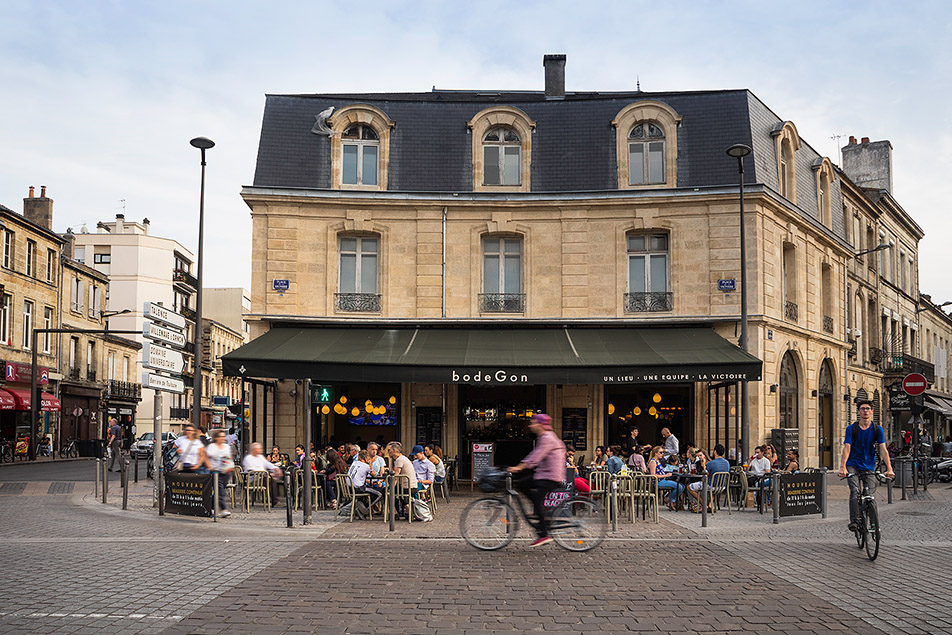 What is surprising about the project is the incorporation of an eye-catching element that contrasts with the classical architecture and confronts it, which reminds us of the typically Parisian Haussmannian style.
The pieces belonging to the Tube series, designed by Eugeni Quitllet, are perfectly suited to the terrace of this emblematic bar thanks to their adaptability to different outdoor and even indoor environments. Moreover, they are a perfect solution for the hospitality industry. Thanks to the combination of aluminum and polypropylene that makes up the seat, the Tube series is light, resistant, stackable and easy to maintain.
The most characteristic feature of its design and where all the attention is focused is the continuous aluminum tube, which gives it great dynamism and visual appeal without detracting from its light appearance. The Tube table, which is mounted on three legs that enable a simple installation, keeps the series' essential straight lines and brings a sense of continuity to the project.
Photos: Meritxell Arjalaguer
Product Distributor: Agora Mobilier